Mid City West Community Council
—  May 2018 Newsletter  —
• Funding Matters On Mid City West Agenda
• 8th Annual JFS Senior Health Fair at Pan Pacific
• Mid City West Neighborhood Council Profiles
Tuesday Night Meeting
Funding Matters On Mid City West Agenda
Several committees will present funding requests to the Mid City West Community Council at its 6:30 pm meeting on the evening of Tuesday, May 8th.
Year-end efforts to balance allocated funds and spending lead to an annual review of numerous spending proposals as the budget year draws to a close.  The fiscal year ends on June 30.
The meeting will be held at the National Council of Jewish Women, 543 No. Fairfax Avenue
---
Jewish Family Service of Los Angeles
8th Annual Senior Health Fair at Pan Pacific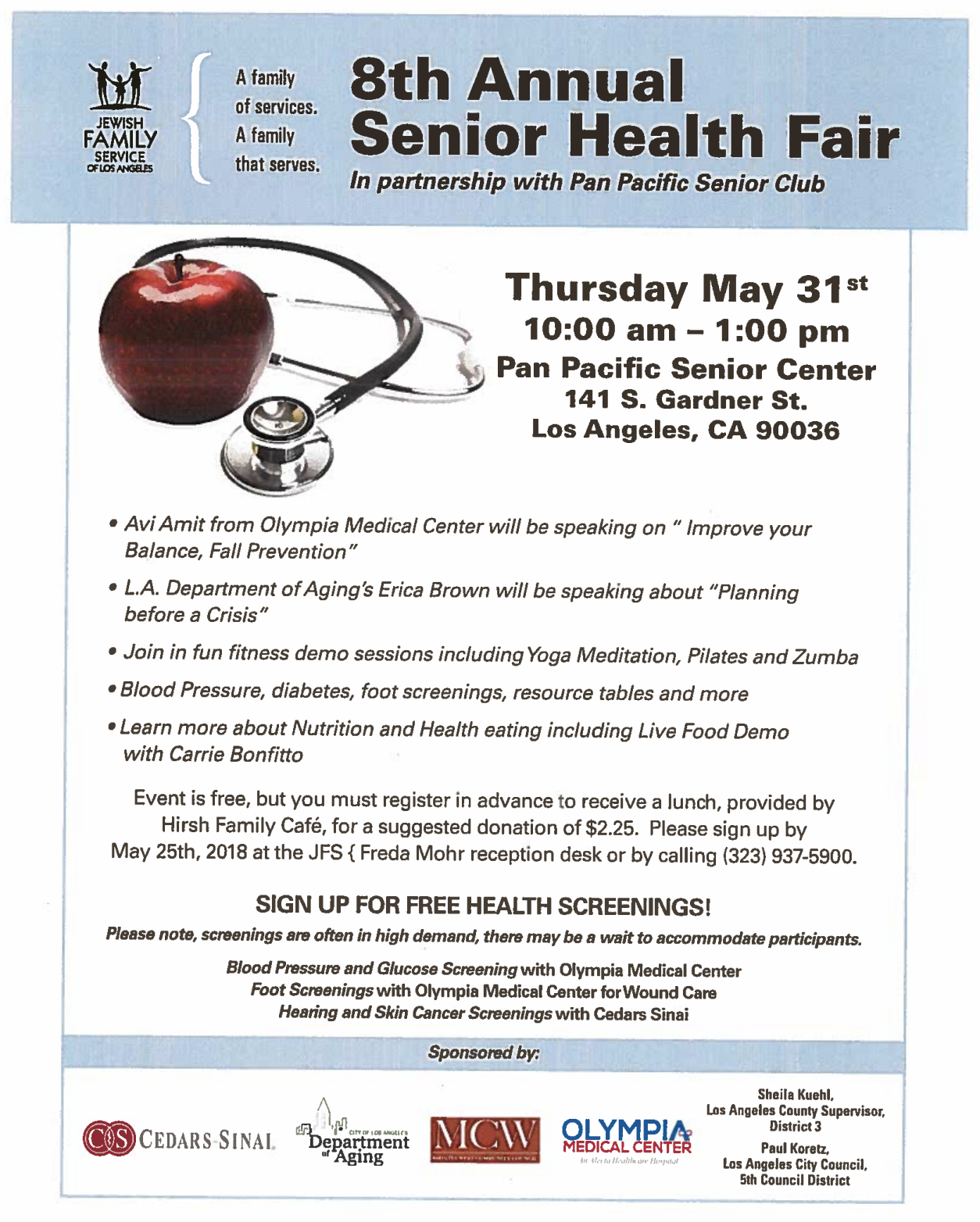 Join Jewish Family Service of Los Angeles 
for their
8th Annual Senior Health Fair
Thursday May 31, 2018
10:00 a.m. – 1:00 p.m.
Pan Pacific Senior Center
Featuring
Avi Amit from Olympia Medical Center speaking on "Improve Your Balance, Fall Prevention"
Erica Brown of the L.A. Department of Aging: "Planning before a Crisis"
Fitness demo sessions including yoga, meditation, pilates, and Zumba
Health screenings (blood pressure, diabetes, foot) and more
Carrie Bonfitt, live food demo session
The Event is FREE, but advance registration is necessary if you wish to receive a lunch.  Call (323) 937-5900 to register.
---
Mid City West Community Council Profiles
In an effort to provide more information about the members of our Board this issue of our newsletter continues a series of profiles.  It is hoped that through these brief profiles other board members and the community members we represent will get to know us better.
Heather Fox – An LA Native Working to Save LA
Born in Los Angeles, raised in Los Angeles, educated in Los Angeles, and involved with organizations trying to preserve Los Angeles, it seems only fitting that Heather Fox would start her own Los Angeles preservation non-profit.
"Being on the Planning and Land Use Committee has helped me connect with the community over issues such as affordable housing and neighborhood integrity and is ultimately what inspired me to create HISTORIC PRESERVATION L.A., a 501(c)(3) not-for-profit organization dedicated to supporting the preservation of historic multi-family housing in Hollywood," Heather said.
Even running for Mid City West was an outgrowth of historic preservation.
"Three years ago I discovered a historic bungalow court in my neighborhood was going to be demolished which led me attend my first ever Mid City West Planning and Land Use Committee meeting," she explained.   "The passionate and intelligent comments that came from the committee inspired me to connect with my neighbors and eventually the building was designated as a Historic Cultural Monument. That experience made me realize how much I care about the future of my City and motivated me to become more involved."
And she certainly has become more involved – working with L.A. Conservancy, L.A. Tenants Union, and Coalition to Preserve L.A., in addition to Mid-City West and starting the non-profit.
The Los Angeles native attended Los Angeles County High School for the Arts and then received a Bachelor's of Fine Art in Acting from the University of Southern California.  She is currently working as a casting assistant for CBS.
Heather is married with a five-year old daughter, a cat and a dog.
In whatever free time may remain she enjoys "writing, storytelling, hiking Runyon Canyon, camping at Leo Carrillo and as many trips to Palm Springs as possible."
Laura Petry – A Personal & Professional Concern
Addressing homelessness and helping young people are the overriding concerns of Laura Petry's life – both personally and professionally.
"I have been working in service to vulnerable young people for over a decade," Laura said.
She is a Senior Research Analyst at Applied Survey Research, a community-based social research firm.  "My work focuses on helping communities address homelessness through data-driven action," she explained.
Laura has previously served as a Policy & Planning Analyst at the Los Angeles Homeless Services Authority (LAHSA), a case manager at a transitional housing program for young adults experiencing homelessness in Hollywood, and a program manager at a community-based mentorship program for youth across Los Angeles.
Her volunteer work has followed the professional involvement.  In addition to Mid City West, Laura is involved with the Los Angeles Coalition to End Youth Homelessness, "a grassroots coalition of folks working toward ending youth homelessness across Los Angeles County."  Laura serves the organization on both the Steering Committee and as co-chair of their Youth Count sub-committee.
Laura's work life certainly follows her education that culminated in a Master of Social Welfare degree from the University of California, Berkeley.
She was born in Pittsburgh and lived there until age 12 when her family moved to Orange County.  She graduated from Tesoro High School in Rancho Santa Margarita before earing a degree in English from UCLA.  She then moved on to Berkeley.
Her free time activities include stand-up comedy – "attending shows, not performing," she quickly adds.  Laura also enjoys urban hiking, cooking, listening to podcasts and music, reading non-fiction and traveling solo.
"My favorite vacation place is the Big Island of Hawaii," Laura said, "But my ideal spot is anywhere sunny and beautiful with great scuba diving and great food."
And then there's the free time she devotes to Mid City West.  She ran for a seat when she was leaving her job at LAHSA.
"Running for MCWCC seemed like a great way to stay involved in serving my community and to remain active in local government," she said. "It also presented a new learning experience, and the opportunity to contribute to issues I cared about in a different way."
This again shows Laura's personal and professional concern for homelessness merging, as they did also in her choice of committee.
"I am part of the Education & Social Services Committee, and am always interested in supporting the work MCWCC does to prevent and end homelessness in our community."
http://www.midcitywest.org/wp-content/uploads/2017/04/cropped-MCW_SiteIcon.png
512
512
Andrew Jhun
http://www.midcitywest.org/wp-content/uploads/2017/04/MCW_SiteLogo_LARGE-300x171.png
Andrew Jhun
2018-05-08 12:10:59
2018-05-08 12:10:59
Check out our May Newsletter!